Is 2023 A Good Time To Invest In Real Estate?
Is now still a good time to invest in real estate? The burning question that is on investors' minds. Despite the current economic market, 2023 presents a unique investment opportunity for single-family rental homes ("SFRs").
Should you invest in real estate right now?
Here are the facts:

Real estate has a long track record for superior risk-adjusted investment returns

The current market conditions are weeding out new supply and potential buyers

If it's a good deal now, you should lock it in for a few key reasons
1. A Stable Investment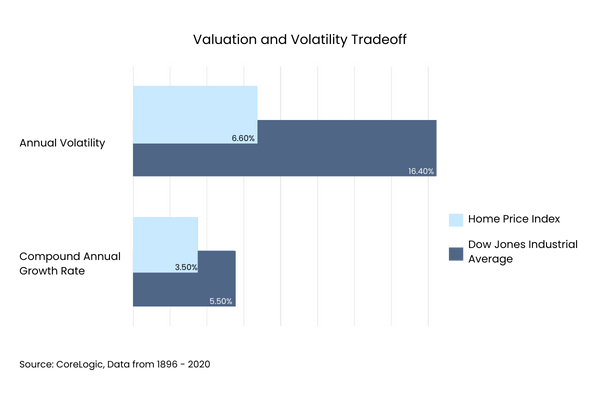 Real estate makes up the largest asset class in the world and is historically proven to be a stable investment relative to stocks, which can fluctuate in value rapidly and unpredictably. Within real estate, SFRs present an intriguing opportunity as evidenced by the scale of sophisticated capital from institutions entering the asset class. Building a diversified portfolio generates a stable stream of rental income as tenants seeking single-family homes are more likely to need something long-term, resulting in longer leasing terms and lower losses due to vacancy or turnover expenses.
2. Pre-Construction Slowdown
The current interest rate environment has put downward pressure on the value of homes as buyers are having more difficulties securing financing, which relieves the market of some buyer competition. However, real estate developers are also impacted, which has caused a widening housing supply gap. With higher interest rates, builders and developers are having more difficulty capitalizing on their projects due to carrying costs and other construction expenses, causing a decline in new home starts. With the diminished future pipeline for new housing completions, the gap between supply and demand is bound to widen even further creating upward pressure on house values down the road.
In 2022, the US saw the highest level of yearly household formations in the last decade with over two million new households, while only about one million single-family homes started construction in 2022. Outpacing the rate of housing starts, this trend of underbuilding relative to household formation also affects overall vacancy rates for both homeowners and rentals. As new builds slow down and household formations continue to increase, the rental housing supply gap worsens putting upward pressure on rental rates, downward pressure on vacancy rates, and increasing the overall desirability of income-producing single-family homes.
The slowdown in the buying market will not last forever when rates eventually soften, but any decrease in the slowdown of new supply cannot be made up rapidly. To be able to close the existing gap in the next 3 to 4 years, the rate of single-family housing starts would need to triple to keep up with demand. This means that investors can get value from their investments by taking advantage of this opportunity now.
3. Your Financial Forecast
The economy is cyclical. If you find a deal that meets your criteria now, you should lock it in. A unique combination of factors over the next few years could turn good deals today into great deals tomorrow.
Rents generally rise in line with inflation, and so does rental demand with higher interest rate environments.

As soon as the interest rate hikes have made their anticipated impacts, rates will go back down causing a lot more buyers to head back into the market (especially in desirable markets with a

robust labor economy and growing population

).

Just as investors are impacted by rate hikes, so are institutional investors. When rates eventually decrease, demand for property will increase once again driving up the value of investments.
In conclusion, if you have the desire and means to do so, then investing now is as good a time as ever. Finding and securing a good deal today is easier than waiting for the market to improve given the long-term risk-adjusted returns of SFRs and the current shortage of housing supply. Plus, SHARE does all the heavy lifting for you –
We find you the deals tailored to your investment criteria

We provide in-depth ROI projections

We tenant your property so it's cash-flowing

We help you manage your property while growing your portfolio
Don't look back in hindsight and wish you had invested earlier.
Schedule a call with our Client Success Team today and let us find you those golden opportunities.