Spotlight Series: Dallas-Fort Worth
Texas is the second-largest U.S. state by both area and population - if you know where to look, investing in real estate here can be a great opportunity, and SHARE can help. Between 2010 through 2020, the population of Texas increased by approximately four million residents, to a total population of 29.7 million.
Known for its absence of state income tax, affordable real estate, and thriving labor force, Texas is a magnet for migrants and Fortune 500 companies alike.
As of 2022, Texas ranks first in the nation with 53 Fortune 500 companies headquartered in the state, followed by New York with 51 and California with 50. Of the 53 Fortune 500 companies in Texas, 23 of America's largest corporations call Dallas-Fort Worth Metroplex ("DFW") home.
Let us take a closer look at the largest metropolitan area in Texas and the 4th largest in the country - the Dallas-Fort Worth Metroplex.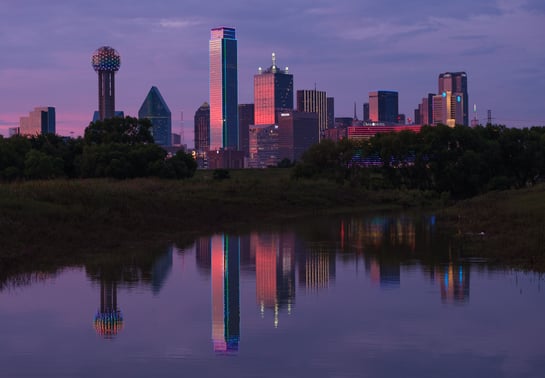 A robust job market
Between 2021 - 2022, 78 corporations relocated their headquarters to Texas, with 37 having chosen DFW as their new home. Adding to the list of well-established companies such as ExxonMobil, AT&T, American Airlines, CBRE, Kimberly-Clark, Texas Instruments, Southwest Airlines, and AECOM, the most notable relocation to DFW in 2022 was Caterpillar Inc. moving their global headquarters from Illinois to facilitate the growth of the Electric Power division of the company.
"The trend of corporate relocations to the Dallas-Fort Worth area isn't slowing down," Clay Vaughn, senior vice president of CBRE's tech and media practice in Dallas, said in a release. "The favorable business climate and available tech talent in Dallas has made it one of the top startup markets in the U.S., which further incentivizes companies to move to the area."
With a diverse range of industries and a low unemployment rate, DFW undoubtedly has a strong job market.
Despite DFW's smaller population than major metros such as New York City and Los Angeles, the Metroplex surpassed both cities in the percentage of jobs added.
According to data from the U.S. Bureau of Labor Statistics, DFW set a new high for total employment in October 2022 with nearly 4.19 million workers. The region grew jobs by +6.5% over the past 12 months, almost double the U.S. job growth rate of +3.4% and the highest among the most populous metros (New York City and Los Angeles saw +4.3%). These trends suggest higher production and consumption, and undercut recessionary concerns, especially in DFW.
Affordability
Affordability is an important factor for the future growth potential of real estate values as it entices immigration and allows more people to enter the housing market, either as homeowners or renters.
Despite being the 4th largest metro in the U.S. with a robust job market, DFW remains affordable compared to other major metros in the country. The cost of living in DFW is approximately 3% lower than the national average.
The affordability is in large part driven by the metro's cost of housing, which is significantly lower than other major metropolitan areas. The average single-family home price as of December 2022 in New York was $773,584, and $1,024,426 in Los Angeles. For comparison, the average single-family home price in Dallas-Fort Worth is $390,257 as of December 2022.
A growing population
Over 187,000 people moved to DFW between 2020 to 2022, the largest population growth of any metro during the peak of the COVID-19 pandemic. From 2020 through 2029, DFW is projected to tack on another 1,393,623 residents, representing a projected +17.9% population growth rate, according to Cushman & Wakefield. Often going hand in hand with job growth, population growth increases both the buyer and renter demand for single-family homes.
According to the U.S. Census Bureau, the median age in the DFW metropolitan area is relatively young compared to the overall U.S. population at 34.7 years, which is slightly lower than the national median age of 38.5 years. This is an important factor for single-family rental home investors as younger people are more likely to be renters and tend to have higher disposable incomes, and a younger population leads to a higher population growth rate in the future.
A hot rental market
Over 50% of DFW residents are renters, compared to 35% nationally. Such a large percentage of renters leads to better returns for rental investment properties as increased demand allows for higher rent prices and makes it easier to fill vacancies. As well, there are no statewide laws that limit how much a landlord can increase the rent when a lease is renewed, which is favorable to investors as they are free to increase the rent as much as they want as long as it does not violate lease agreements.
The post-pandemic world set records of all-time highs. Wage growth in the United States had been averaging +6.20% from 1960 to 2022, but reached an all-time high in April 2021 with +14.79%. Coupled with the fact that the majority of the population was able to work from anywhere and moved around, rental demand and pricing soared. In DFW, the cost of rent rose to a three-decade high of +16.1% in 2021. While rental price growth in 2022 stabilized at +5.6%, the median rent growth of +6.2% in 2022 still outpaced both Texas (+4.8%) and national (+4.0%) averages.
According to a Federal Reserve Bank of Dallas forecast, year-over-year rental price growth in DFW for 2023 is expected to rise from 5.6% to 8.4% (as of May 2023) before moderating for the latter half of 2023.
All things considered, Dallas-Fort Worth is an ideal location for real estate investments that SHARE is excited to be part of. As America's 4th largest metro with a stable job market and growing population, relatively affordable cost of living, and a hot rental market compared to other major metros, DFW makes for a great place to add SFRs into your portfolio. Check out SHARE's property listings in Dallas-Fort Worth to learn more.