Spotlight Series: Atlanta
Atlanta's real estate market thrives amidst expanding population and dynamic business climate.
Real estate investment offers an excellent opportunity to diversify and strengthen your investment portfolio. Identifying the right market is essential for maximizing returns, and Atlanta has repeatedly ranked among the best cities for real estate investment.
This article will outline seven compelling reasons to consider single-family rentals in Atlanta:
Affordability
Compared to other major US cities, Atlanta boasts a more affordable cost of living, which translates to more accessible real estate prices. As of February 2023, Zillow reports the average home value in Atlanta to be $402,030, significantly lower than cities like New York and Los Angeles.
Robust Economy
Atlanta's low taxes, minimal regulations, and supportive local government have fostered a business-friendly environment that attracts diverse industries and professionals. The city is home to several Fortune 500 companies, including Coca-Cola, Delta Air Lines, and Home Depot, while global corporations such as Apple, Alphabet, Microsoft, NCR Corporation, IBM, and Visa have established offices within the area.
Major Transportation Hub
Hartsfield-Jackson Atlanta International Airport, the world's busiest airport, welcomes nearly 100 million passengers annually. The airport's high passenger and cargo traffic generates demand for real estate, retail, and hospitality services, offering ample opportunities for investors and businesses.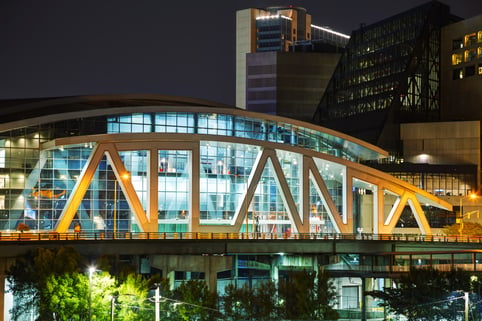 Steady Growth
Atlanta's population has been consistently growing, making it the 8th largest metro in the United States. Since 2022, Atlanta's population has increased by 1.55%, outpacing both New York City and Los Angeles. The Zillow Home Value Index reveals that the Atlanta Metropolitan Statistical Area appreciated by nearly 9.4% between 2021 and 2022, placing Atlanta among the top 10% nationally for real estate appreciation.
A Hotbed For Institutional Investments
Atlanta has emerged as a popular destination for institutional investors of single-family homes, owing to the high-quality rental products available in the region. The market has attracted institutional players like Invitation Homes, one of the largest single-family rental REITs (real estate investment trusts) in the United States. As of September 2021, an estimated 25% of the company's SFR portfolio is located in Atlanta, Georgia. The level of investment in Atlanta reflects its confidence in the city's strong economic fundamentals, population growth, and attractive rental yields.
Strong Rental Demand
Atlanta's expanding population and robust employment landscape create an attractive destination for young professionals, families, and retirees. As a result, over 55% of Atlanta households are renter-occupied, with a rental vacancy rate of 5.4% as of January 2023. In contrast with the country's rental vacancy rate of 5.8%, the rental market in Atlanta suggests a favorable market for rental properties and real estate investors.
A lower vacancy rate is a good indicator of strong real estate investment because it signifies the demand for rental properties is high relative to the supply. It indicates that the market favors landlords and property owners, as they have more leverage to set higher rental rates and attract higher-quality tenants.
Diversification
Investing in rental properties in Atlanta offers a means of diversifying your investment portfolio beyond traditional options like stocks and bonds. However, acquiring the right property, generating positive cash flow, and managing tenants can be challenging. SHARE simplifies the process by sourcing on and off-market deals tailored to your investment criteria, meticulously underwriting and inspecting properties for comprehensive ROI projections, and professionally managing your property.
In summary, Atlanta's thriving real estate market offers a prime opportunity for investors seeking either their first purchase or diversification to their portfolios. With its affordable housing, robust economy, strategic transportation hub, steady growth, and strong rental demand, Atlanta presents a compelling case for investment in single-family rentals. By partnering with SHARE, you can confidently navigate the intricacies of the real estate market and optimize your investments for long-term success.
Schedule a call with our Client Success Team today to learn more.