Spotlight Series: Memphis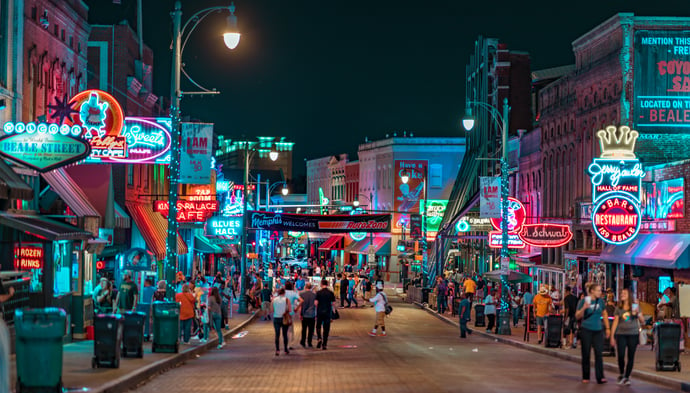 SHARE has recently expanded our portfolio of single-family rental homes to Memphis, Tennessee. There's no doubt about it - cash-flowing opportunities are increasingly difficult to find. But we are seeing many great economic trends with low property prices that cannot be ignored. Although there are so many reasons that make Memphis a smart place to invest in, this article covers 3 main considerations that we think investors should consider.
Check out our Featured Property in Memphis with 7.8% Cap Rate:
The SHARE Portal only features some of our available listings.
Remember, if you don't see something you like, we can source deals for you based on your investment goals & capabilities.
One Of The Top Metros For Job Creation In The U.S.
Due to the state's tax-friendly laws for individuals and businesses, Tennessee has the second-lowest local and state tax burden per capita. State-level income tax on personal income is not levied in Tennessee, and property taxes here are one of the lowest in the whole country. As such, many businesses and individuals choose to relocate here. The city is home to 3 Fortune 500 companies: FedEx (employs over 30,000 workers in the area), AutoZone (employs more than 100,000 workers worldwide), and International Paper Co. (provides over 38,000 jobs in Memphis). Additionally, Ford is investing over $5.6 billion to build a 3,600-acre mega campus called BlueOvalCity in Stanton, just 50 miles from downtown. It's designed to be the largest, most advanced, and most efficient auto production campus in the automaker's history.
The Mid-South employs the largest percentage of people in logistics across the nation. FedEx's global headquarters are based here, ranking Memphis as the #1 busiest cargo airport in North America, and #2 in the world. Additionally, being located along the Mississippi River equips the port of Memphis for heavy intermodal transportation. It's the country's 5th largest inland port.
Resilient Rental Demand
Investors in Memphis real estate can benefit from a strong tenant pool and high demand for rental properties due to the thriving labor economy that drives demand for housing. Memphis has a high percentage of renters compared to most other markets in the country, with an owner-occupied housing unit rate of 47.5% compared to the national rate of 63.5%.
While there are many reasons explaining why such a large part of the population are renters rather than owners, the main factor is that there is a shrinking supply of new-builds in Memphis.
Low Cost Of Living x Lower Real Estate Prices
As one of the most affordable cities in the country, investors can find great deals on housing in Memphis. The cost of living in Memphis is nearly 24% less than the national average, which helps maintain lower housing costs. For example, in comparison to San Francisco, consumer prices (including rent) in Memphis are 46.1% lower, and purchasing power is 38.9% higher.
Generally, there is a correlation between the lower cost of living in a city and real estate prices. When the cost of living is lower in an area, it often translates to more affordable housing options and lower real estate prices.*
*This correlation is not absolute and can vary depending on various factors such as economic dynamics, supply and demand, local market conditions, regional variations, and socio-political factors can all influence real estate prices independently of the cost of living.
So Much Potential For Appreciation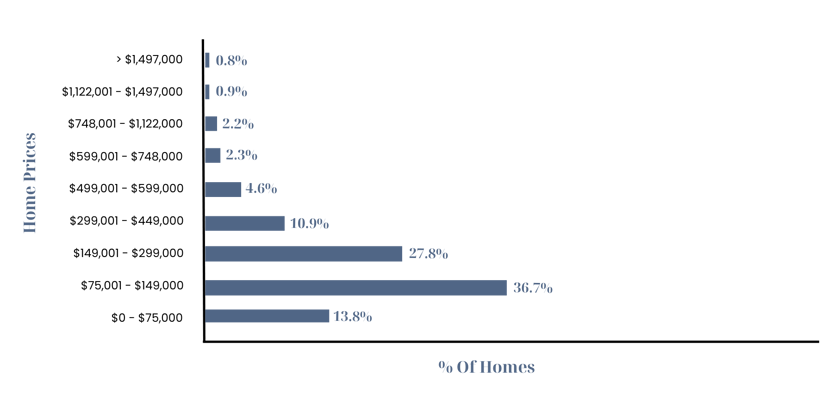 According to NeighbourhoodScout.com, the majority of homes in Memphis are valued below $299,000. For context, the national average house price is $416,300 as of May 2023. This means there is greater potential for capital appreciation with Memphis real estate. While the focus on cash flow from rental income is important for almost every investor, capital appreciation and appreciation potential in the long term are not to be overlooked.
With lower-than-average property acquisition costs, lending and mortgage requirements are more attainable, enabling more investors of Memphis real estate to generate positive cash flow even with moderate rental rates.
In conclusion, Memphis, Tennessee, offers lucrative real estate opportunities for investors who are looking to diversify their investment portfolio. The thriving economy, resilient rental market, low cost of living, and favorable real estate prices make Memphis an attractive destination for real estate investment. Get in on the action today by booking a call with our Client Success Team.